Natural Climate Solutions
Reimagining Our Cities
Rethinking Our Carbon Future
Carbon + Climate Change, Forest Management, Forest Products, Innovation
Climate Resilience: An urban case study
ft. the Boise City of Trees Challenge - an ongoing story of community, collaboration, and forest climate solutions
Facing a changing climate and a rapidly urbanizing population, cities across the world are searching for solutions to turn the cities of the future into carbon repositories, not carbon problems. Frequently, trees are treated as an afterthought instead of an essential piece of the urban fabric. Not in Boise, Idaho.
The City of Boise is leading a new movement for community recovery and climate resiliency. While there is no single silver bullet for solving climate change, forests offer powerful carbon benefits and climate solutions. Long known as concrete jungles, it's on us to fundamentally reimagine our cities, growing them into climate solutions, not part of the problem. The City of Trees Challenge, launched in partnership with the The Nature Conservancy (TNC) in Idaho, the Arbor Day Foundation, USDA Forest Service and Treasure Valley Canopy Network in 2020, has an ambitious goal: to plant 100,000 trees, one for every household in Boise, over the next 10 years.
That's one tree for every household in the city; one seedling for every person in the city. Why? Hear from Lance Davisson, Director of the Treasure Valley Canopy Network in this case study on urban climate resilience.
In Boise, climate action isn't just an environmental issue. It's a public health and economic development necessity. Climate change is continuing to shift the Treasure Valley's seasons, rainfall, snowpack, air quality and water availability. These changes impact the health, quality of life, and yes, the livelihoods of everyone in the city. By harnessing the power of trees as a climate solution, and the passion of the city's residents, Boise is positioned to grow its urban forests, and showcase the true treasure of Treasure Valley: its trees.
"We've got to act now if we're really going to impact climate change. And trees are such an important part of that," says Elaine Clegg, Boise City Council President, in this inspiring film by #forestproud friends + partners at the collaborative US Nature4Climate.
Urban forests put trees to work for our cities, connecting people with outdoor spaces, sheltering wildlife, lowering urban temperatures, and driving climate resilience by storing carbon and filtering our air and water. One tree is needed to offset emissions for every 2 gallons of gas.
Urban forests are a scalable solution to today's most pressing urban challenges. It's essential that our urban trees grow alongside our cities. Collectively, our urban forests are climate solutions. It's up to us to plant, steward, and build a climate resilience urban forest.
---
New to the urban forestry conversation? Wondering why urban trees are so critical to helping us reimagine our cities and rethink our carbon future?
Check our blog posts ft. urban forests:
Want to hear more from Lance?
Check out his podcast episode "To Tree, or Not To Tree - Important Projects to Protect Our Canopy & Climate and learn more about the critical role that urban trees play, now + tomorrow.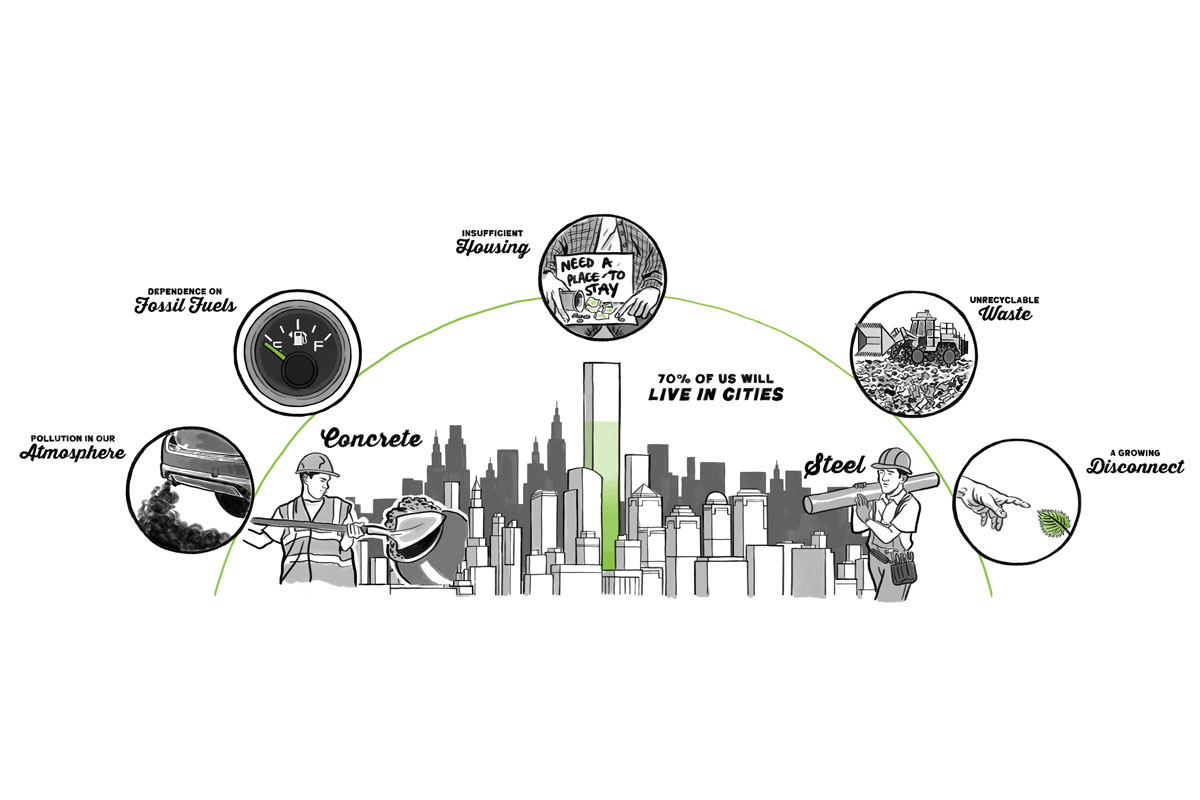 Reimagining Our Cities
Biomass + Renewable Energy, Carbon + Climate Change, Careers, Cities, Forest Management, Innovation, Mass Timber, People, Products, Urban Forests
FORESTS: Reimagining Our Cities
For the first time in history, more than 50 percent of the world's population lives in a city.
Watch this next