National Forest Products Week
October 17-23, 2021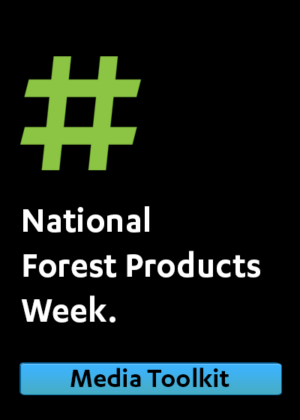 In 1960, Congress issued the first joint proclamation designating the third Sunday in October as the beginning of National Forest Products Week. It was signed by President Dwight D. Eisenhower, and has since been recognized and honored by every sitting U.S. President.
But what is National Forest Products Week? 
While it can (and does) mean different things to different people, we see it as a time to recognize and support how important forest and forest products are not to just our daily lives, but to our future. 
By offering renewable, sustainable, plant-based alternatives to plastics, concrete, and fossil fuels, forests and forest products provide some of the most innovative and powerful solutions we have to climate change. And we think that that is something worth supporting.  
So whether you work in the forest sector, love forest products, or are as concerned as we are about climate change and future of our planet, join us in celebrating #NationalForestProductsWeek
 The #forestproud Team
We've pulled together a curated collection of content to help you celebrate #nationalforestproductsweek.
Check out our video showcase to download our featured films directly. Looking for additional assets created for a specific film? Don't forget to take a look at our Media Kits for:
National Forest Products Week Toolkit
High-level. Engaging. Flexible. These #NationalForestProductWeek resources have been optimized for Instagram and Twitter. Use them as-is, pull out components for a standalone post, or combine any of these elements with your own content to create a truly unique, engaging, and compelling story on why forest products are important to you.
Happy posting!
Sorry, no results matched your search terms.
Please try a different query.
5R's | Forest Circular Economy