Climate Tech
Reimagining Our Cities
Rethinking Our Carbon Future
Carbon + Climate Change, Forest Management, Forest Products, Mass Timber
A climate solution hidden in plain sight
The story of the Hidden Creek Community Center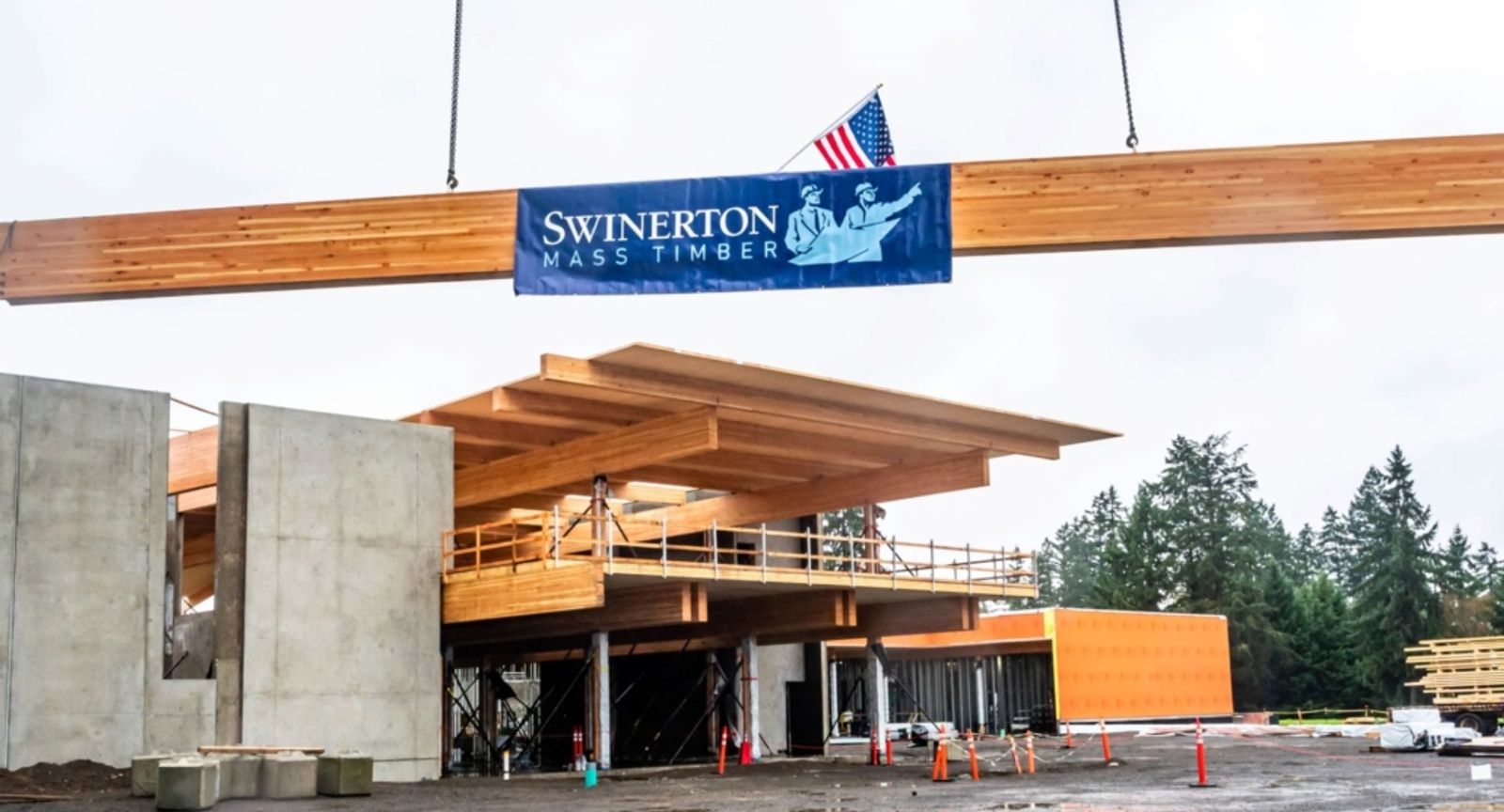 They say good things come to those who wait. And for Hillsboro, Oregon nothing could be closer to the truth. After years of planning and several intense months of construction, the town opened its doors to a brand new community center this month.
At more than 51,000 square feet, with exposed wood beams that extend some ninety feet long, the Hidden Creek Community Center is among the first buildings of its kind, using mass timber technology -  massive engineered wood beams and structural panels - in place of traditional, nonrenewable, construction materials like concrete and steel.
You only have to look at its sleek design to know that the building offers state-of-the-art facilities and public space, but what really makes this building special - and arguably, what really makes every mass timber building special - is that in addition to working for the community by providing critical infrastructure, this building is also working for the planet as a powerful climate solution.
When we first heard this we had a million questions. So many in fact, that we actually called up Swinerton Mass Timber - the company who built the community center - and talked to William Silva, Director of Pre-Construction, and asked him to lay it all out for us.
---
When the City of Hillsboro called you, were they looking for a climate solution?
We were working on the First Tech Federal Credit Union Corporate Offices which was the first project to bring mass timber to the Portland suburbs. And when we finished it in 2018, it was the largest mass timber project in the United States.
During the construction, Hillsboro's City Manager and staff visited the site and saw what mass timber could do, particularly when the right project team was assembled.  The City Manager directed his staff to explore mass timber as a potential option for the Hidden Creek Community Center.
Serving the community has always been a primary function of the City of Hillsboro and the use of mass timber for their new community center fit perfectly with that mission as it provides a connection to nature, a beautiful space for users, and a building that stores carbon rather than emits it.
So yes, I think that they were looking for the best option for their community.
Why did Hillsboro choose mass timber over concrete or steel?
There were many options on the table. A steel structure would have certainly met the physical requirement for the space, but mass timber provides so many additional benefits, that the community really saw value in.
From the design team to the engineers, the whole project team was really committed to creating a space that connected the community and upheld the goals of working towards a more sustainable future. One of the goals of the City of Hillsboro is: "...to envision a sustainable future, in which the City responsibly satisfies the needs of its residents, provides a healthy and satisfying work environment for its employees, and minimizes its impact on the physical environment of the community."
So in that sense, choosing mass timber as the primary structural solution, was perfectly in line with their mission and sustainability plan.
What makes mass timber the perfect choice for a community center?
As you stand in the gymnasium looking at the 90 foot long glulam beams, it's hard not to stare out the windows at the Douglas Fir trees on the other side of the glass and instantly make that connection to nature. Given the natural forests surrounding the area, mass timber was the perfect option to connect the community center with the landscape of the community.
Using mass timber is also a nod to the state's rich timber history.  Oregon has been home to sustainable forestry for years and so this building pays homage to those roots, though with a slightly modern twist. A lot of the material was locally sourced for the glulam beams and columns, and so this project connects with the community in more ways than one. We hope it will stand as a testament to the future of the timber industry in Oregon.
How do the benefits or advantages of mass timber translate into solutions for societal challenges?
There are so many additional advantages to mass timber construction over other materials. In terms of timing, our team was able to deliver the building 4 months faster than traditional steel construction, including overcoming permit delays so that the Community Center could open for fall programs.
I'd also say that with everything going on in the world right now, health and wellbeing have increased prominence in society today.  The exposed mass timber structure provides a natural atmosphere for residents to enjoy as they utilize the space and studies have shown that working, living, and even recreating in spaces which connect you to the natural environment help reduce stress and lower blood pressure.
As a building material, mass timber has massive potential to spur a green building initiative that encourages sustainability and cost advantages. The use of mass timber in the Hidden Creek Community Center is just one example of the larger trend to utilize natural products - like mass timber - for a range of benefits.
It seems more and more companies, organizations, towns are setting sustainability goals. Where does mass timber fit in helping achieve these goals?
There are many advantages to mass timber helping to achieve the sustainability goals of companies and communities. The ability to use products grown, harvested, processed, and built in a region promotes a sustainable ecosystem which can have a net positive benefit for the carbon cycle. The future of buildings will include more sustainable solutions, and mass timber is a really, really powerful tool that can help us do that.
Let's talk about carbon and sustainability. How can buildings be climate solutions?
The ability for a building to act as a climate solution is incredibly valuable.
Mass timber locks in and stores carbon in a way traditional building materials don't. Owners and architects are increasingly focused on the carbon and sustainability story associated with the buildings we build.  Every time we build a mass timber building our clients lead with the sustainability facts for the building - how much carbon it stores, how many cars off the road, etc. It is exciting to know that the building doesn't just work, and isn't just beautiful, it has a real positive environmental impact and people are excited about that.
---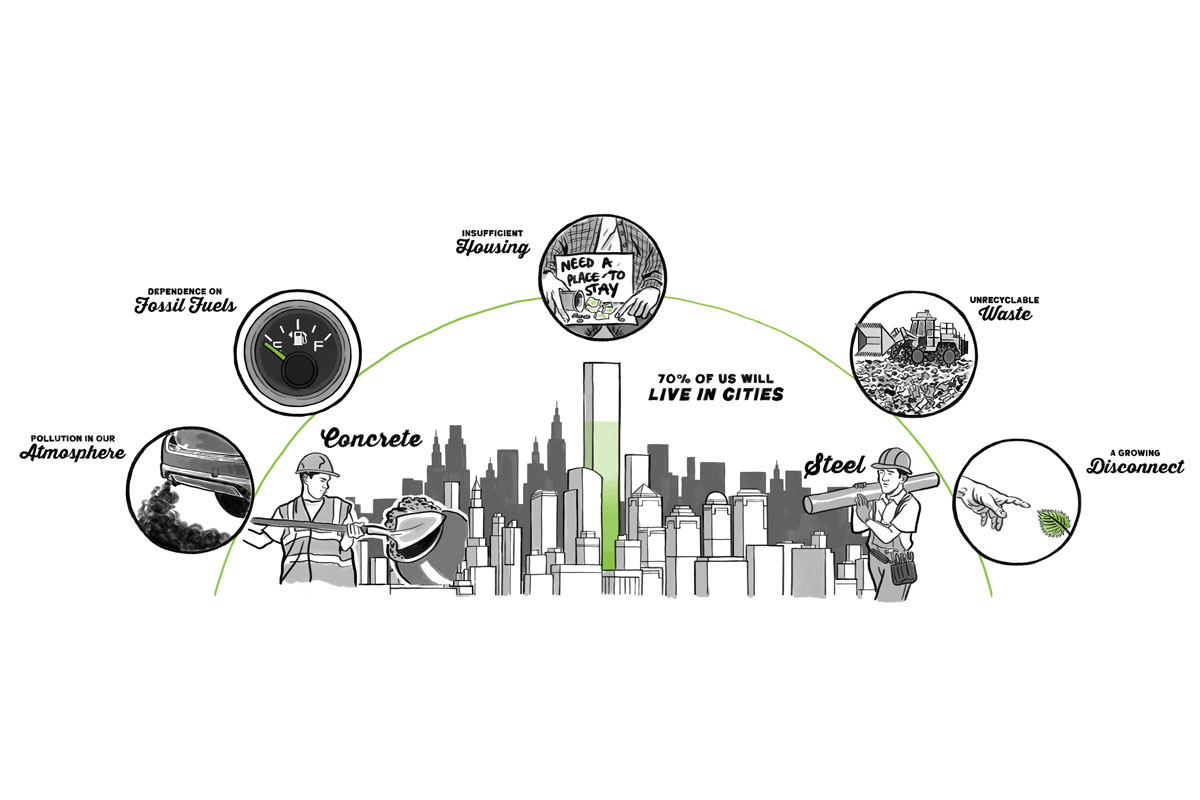 Reimagining Our Cities
Biomass + Renewable Energy, Carbon + Climate Change, Careers, Cities, Forest Management, Innovation, Mass Timber, People, Products, Urban Forests
FORESTS: Reimagining Our Cities
For the first time in history, more than 50 percent of the world's population lives in a city.
Watch this next