Community
Profiles
Careers, Community, Forest Management, Forest Products, Innovation, People
Seeing the Forest for the Tweets
Meet forest professionals who call social media home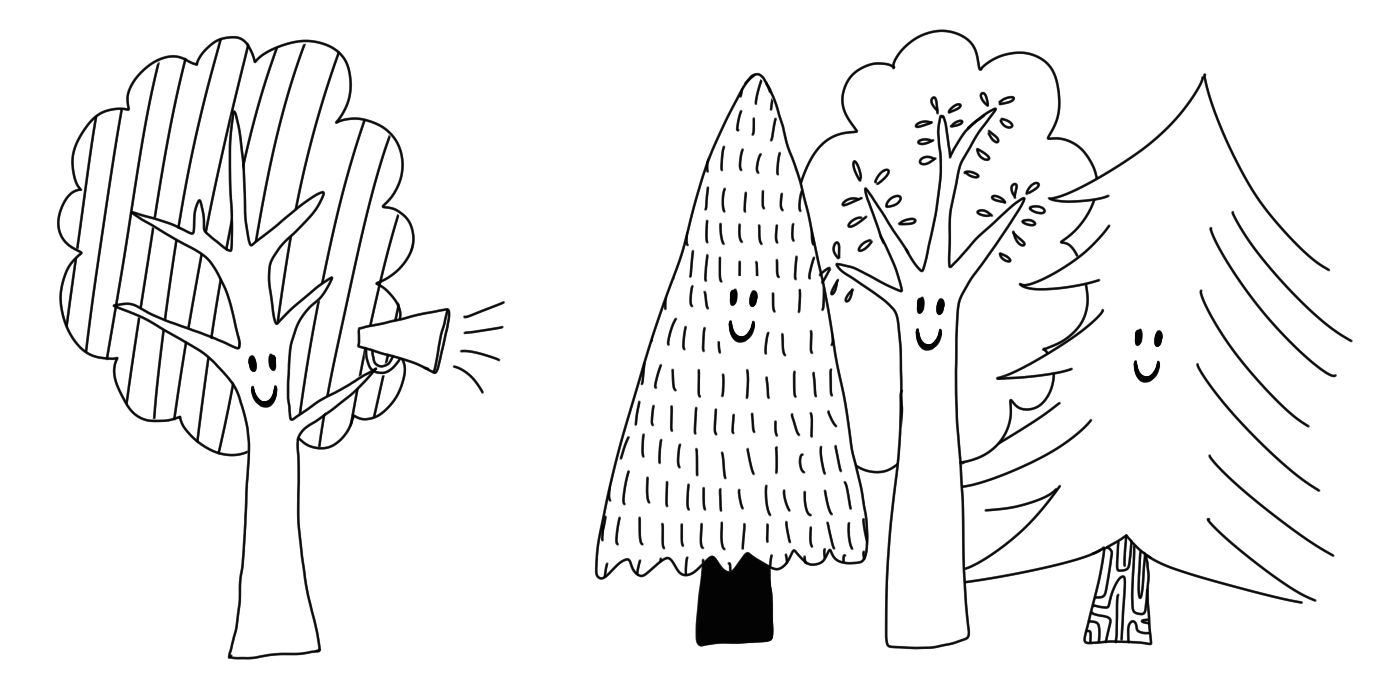 Social media, including online platforms like Facebook, Twitter, YouTube, Instagram, TikTok, and more, has rapidly transformed how we interact. While forestry may not be the first thing that comes to mind when you hear 'social media', our field is not exempt from this phenomenon, as many forestry professionals are now turning to social media as a tool for information, communication, and connection.
(Pro tip: join the conversation with #forestproud on a platform of your choice!)
Meet seven professionals who use social media in a forestry context. These professionals are several of many foresters, educators, and scientists across public and private sectors who are talking trees. Together they explore how social media is used by forestry professionals, the engagement and benefits that come with this content creation, and advice for anyone interested in joining the digital forestry conversation.
This article and all supporting interviews were done by Jenna Zukswert - a PhD Candidate in sustainable resources management at SUNY College of Environmental Science and Forestry - originally for the SAF June Forestry Source! 
---
Posting Professionals
A few of the many types of content that the interviewees have produced on social media include short videos on seed tree versus shelterwood harvests, how to identify invasive species, different types of plant parasites, photos of buds from different tree species, wildlife and fish in Maine, and the contents of a forester's vest have all been welcome. Written posts explaining silvicultural prescriptions and outcomes, comparing two Gleditsia species' bark and occurrence, and sharing methodology from a forest climate change study at Hubbard Brook have also been well received. The primary reason these professionals use social media is to share information and experiences.
While Emily Dolhansky (@emilydolhansky), a forester for the Bureau of Land Management, had a Twitter account in graduate school that she would occasionally use to share content from SAF meetings, she started gaining traction in social media sharing information about wildfires in 2020. As a GIS technician for the US Forest Service at the time, Dolhansky discovered that many people were getting updates about the California wildfires directly from Twitter because it was easy to use and understand. She then began to share more about her job as a forester; she finds it important to share success stories and "small victories." This sentiment is echoed by Lacey Rose (@foresterlacey), a registered professional forester in Ontario, who joined Twitter in part because she was "seeing so many good things out there in the forest" and wondering "why aren't more people sharing these good news stories?"
Dr. Tom Kimmerer (@tomkimmerer), a forest scientist, educator, and writer, uses social media to share information about tree physiology and natural history in Kentucky. In addition to sharing information from his own work, he uses Twitter to talk to and learn from people in forestry and other related disciplines, such as physiology, biochemistry, and forest genetics. This exchange of information has been rewarding. "I get about two or three ideas a week from Twitter that are going to wind up in the next book", he says, "so I think it's very valuable."
Also an educator, Dr. Neil Thompson (@forestryprof) shares short, viral videos on TikTok primarily about silviculture and dendrochronology, leveraging his skills and passion as an educator. Encouraged by his students at the University of Maine at Fort Kent to join TikTok, Thompson will often gain hundreds of followers from posting a new video on content he considers to be fairly basic, such as that knots and branches are connected, but is novel and interesting to many. "We have to remember that as much as we gain knowledge… it is brand new to so many people, and they can be fascinated by things that we take for granted as essential," he says.
Chelsi Abbott (@hemlock__holmes), scientific advisor for Davey Tree and adjunct professor at College of DuPage in Illinois, was also encouraged to join TikTok from her students and, like Thompson, was surprised at how receptive others were to her niche interests related to tree health. Abbott was initially hesitant to join TikTok. "I was like, 'Who would want to know about mushrooms? Nobody!', but it turns out, it's a lot of people!"
TikTok is also used by Alex Ashby (@number1treefriend), a forester for the Albany Water Department in New York. Ashby started making instructional videos and filming day-to-day depictions of their forester job during the pandemic. Their videos include before and after shots of silvicultural prescriptions with explanations, water management advice for logging roads, and plant identification. As Ashby says of their involvement in social media, "I just really like talking about trees–constantly and always–so it works out great."
Nearly all interviewees mentioned using their social media accounts to depict a "Day in the Life." They use the social media channels to show others, particularly young people, what it is like to be a forester or scientist. While Dr. Lindsey Rustad (@LindseyRustad), Research Ecologist for the USDA Forest Service has a professional Twitter account she uses to share "news on people, places, things, and events", she has a personal Instagram account that depicts a day in the life of her job. On Rustad's Instagram account, she refrains from posting news and employs more storytelling. "In both accounts", reflects Rustad, "I also try to always share something… that may be of interest to the audience, like a fun fact, a reflection, an overall message, or conversation."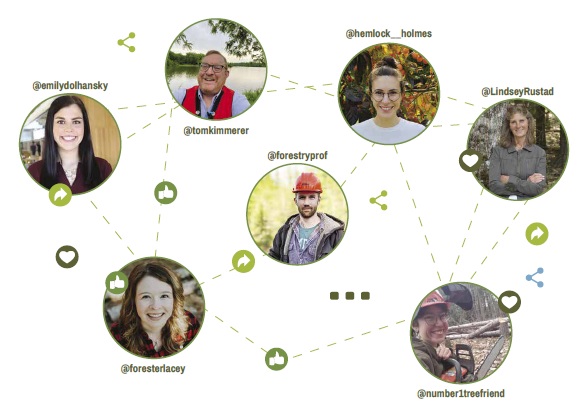 From 60 Minutes to 60 Seconds
Social media is known for its restrictions on content length, and nearly all interviewees talked about this. Lacey Rose found Twitter's character limit to be a challenge where she had also to refrain from using technical jargon and "speak in 'real people' language about forestry." Tom Kimmerer indicated that communicating without jargon is "a skill we have to develop over time," adding "I think it's critically important…we're using social media as a way of broadening the audience for forestry-related subjects, and the only way of doing this is to speak in relatively simple terms."
Abbott and Thompson, who engage with their students in both traditional lectures and now on social media, find the short time limit of TikTok to be a rewarding challenge – as Thompson puts it, trying to "summarize a 60-minute lecture into just 60 seconds." In Abbott's words, "If making a two-minute video on something you could talk about for hours isn't good practice on how to really be concise with information, I don't know what is." Both claim that this challenge has made them better educators, helping them consolidate their thoughts and condense their content to convey what is most important.
Despite the need to be concise, Dolhansky encourages forestry professionals to refrain from oversimplifying, or using just the "nice talking points", and instead dive into complex issues. "You can be an ambassador and still talk about things with nuance and explain complexities, without just [saying] 'Everything's great!' or 'Everything's awful!'… I think being able to speak openly and engage in meaningful ways… people really connect with that."
Online Watercooler
Interviewees described a range of communities with which they engage online. One community is their colleagues; as Rose put it, "preaching to the choir." Kimmerer started using Twitter in part to connect with participants from his outreach programs. Rustad also enjoys learning more about what her colleagues are up to. "I think of [social media] a little bit is that it's the watercooler or coffee room: you can choose not to talk to people there, but you might miss some things that are happening on a professional and also personal [level]."
Rose and Dolhansky also spoke to the value of connecting with others in forestry from other states or locations. Rose appreciates that she can "get to know other people in forestry that I would never have the opportunity to meet in real life" and Dolhansky likes learning about activities and projects that "people several states over from me are doing." Kimmerer extends this, reflecting on benefits of international connections. "Forestry always has been a very international discipline, even though we work in our own local forests and social media really enhances that ability to speak with people from different backgrounds." Twitter can help connect researchers and practitioners within forestry, as it is popular among academics; Dolhansky has conversations on Twitter with academics about their research and what is happening on the ground.
They also engage with people outside of forestry. Other followers of Ashby, Abbott, and Thompson include students, people generally interested in nature, and as Abbott puts it, "Fun Fact-ers" such as the comment Ashby received, "'I didn't know that porcupines could climb."
On the other end of the spectrum, interviewees mentioned engaging with those who think poorly of forestry. Many of our interviewees tend to not engage with negative comments. Dolhansky tends to get a lot of interaction from people who are critical of forestry, particularly the timber industry, and challenge or disagree with what she is saying. "A lot of times I can have constructive conversations with these people," but she notes that there are others whose minds she cannot change, "so I've just kind of learned where to expend my energy and where not to."
A Tool for Good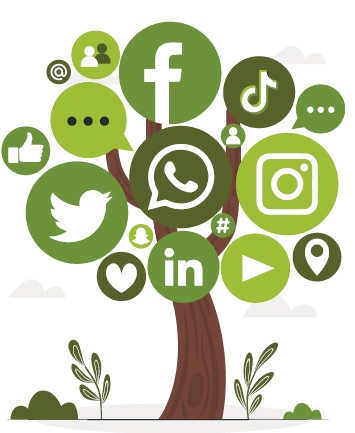 Many benefits of using social media came to light. Perhaps the most basic: social media provides a way to educate and communicate with others, which was important to all of the participants.
"The more people we have educating, the more people we have engaging, the better. What's the worst if more people know about trees and all the fun stuff about forests?" asks Abbott. Exchange of information with students and colleagues, between researchers and foresters, across disciplines, and with those new to forestry are positive benefits of social media use. Rustad cites social media as "another way to communicate about what I do so I can spread the word about publications, about events, about what we're doing in the world of forest science", and she benefits from "learning so much about what other people are doing out there." This connection can sometimes result in unanticipated opportunities offline, such as invitations to speak at events, awareness of professional programs, and in Ashby's case, an informal Zoom book club with woodworkers.
Another benefit of social media use is representation. Ashby aims "to get people who might not otherwise be interested in forestry or realize that forest ecology or field work or any of this is an option in life… to see that this is something you can do, and this is something that you can start really small doing" and they note comments from queer forestry students who feel less alone after seeing their content. Awareness of forestry as a career option was also important for Thompson. "The benefit, I hope, is [that] people realize that forestry is a profession that's available to them…. I'm not saying you must do this… I would like people to make a considered, informed decision… but I think what the whole forestry network on TikTok is doing is showing pretty well the range of things that you can do."
As a member of initiatives to increase representation of women in science, Rustad says she tries to "post images of, not always myself, but other women, women in forestry, women in the outdoors… so that girls, particularly middle-school girls, can see that women can be out there, they can be scientists, they can be 'fisher people,' they can be engaging in the outdoors." Rose considers social media to be "the best outreach we can do to recruit for future foresters," enthusing "imagine if every forester was putting out one message every three months, even. Inevitably, some people are going to see that and be like, 'Oh, I didn't know that was a career option.'" She adds, "If other people can see people that look like them doing these jobs, then they might consider it for themselves."
Representation is important not only for recruitment, but for public perception of forestry. Dolhansky says, "We need more people with boots on the ground and field perspectives to add to this chorus of people promoting good forestry practices and being an ambassador of the field." In her experience, "it's a lot more appealing for someone to interact with another person than a brand or company…actual people seem to get more engagement." Rose echoes this sentiment, stating "I would like to try to change the public's perception about forestry whenever I have the opportunity to do that… I think it's critical for us to tell the real story… There will always be some folks out that there still don't think it's OK to cut down trees, but the benefit is we can make sure they know all the steps that have to happen before a tree can be harvested." She adds, "When people can put a friendly face to someone that is caring for their forest, I think it has the potential to change perceptions."
"It's not just a little extracurricular activity that doesn't mean something," says Dolhansky. "I think it can be really used as a tool for good."
Advice for Aspiring Social Media Users
Choose the Platform
Many social media platforms exist, and they differ in types of content, character length, and user demographics. Younger generations may be more active on TikTok, while older may be more active on Twitter and Facebook. Consider the content you want to produce and consume, and the communities with which you would like to engage. "I do think deciding what platform you want to be on and focusing on that is an important choice that you have to make as a professional. Where can you have the most impact; not necessarily where you have the largest audience?" advises Kimmerer.
Stay in Your Lane
Several interviewees spoke of considering what subjects you want to post on and recommend sticking to what you know. Thompson prefers to focus on "something I've done, something that's in progress, something that I can see, touch, feel, show," and directs anyone who asks about topics he doesn't cover to others who specialize in that area, which further builds community. "I'm sure that there are pressures for creating a certain type of content or swaying with what other people might expect, but where I come at it is if I think it's interesting and I think it's fun, that's probably what I'm going to post about, and hopefully people enjoy it," says Abbott. "And if they don't, they don't; there are plenty of other areas in the world that they can get their information from."
Act Like You're in Public, Because You Are
While social media accounts can be private, and this can be ideal for more personal accounts, the accounts discussed in this article are public. "Assume the highest-ranking person in your organization will watch your videos," cautions Thompson. "Always, always, always think before you post. You can go back and delete a post, but once someone has seen it, you can never make it unseen," warns Rustad.
Start Small
"It doesn't have to be overwhelming," says Rustad. "Choose a platform, start following a few people you admire, think about what you want to share, and engage when you have the time. It doesn't have to be all the time." In Ashby's words, "You don't have to reinvent the wheel. Just because you are starting a new account doesn't mean there isn't help." They mention several groups and movements such as Women in Wood and Forest Proud that you can join to connect with others. "Just dip a toe in and see what other people are doing" recommends Rose, "…and then you will just probably start thinking of ideas when you're doing your job."
Share Comfortably
You get to decide what and how much, or little, you would like to share – whatever feels comfortable for you. "Social media isn't always about gaining a following," Abbott reminds us. Many of the interviewees recommend being aware and intentional about how personal you would like to be. "It's important to figure out for yourself where that happy medium is before you start making [posting] things," notes Ashby. Recommending moderation, they describe a happy medium "between being yourself and being outgoing with that and honest about it….and also not telling people exactly where you live and how to find you."
Be Accessible
Thompson recommends closed captioning for videos. For TikTok, this is now an automatic feature; in the past, it was a manual addition. For image-based social media, you may explore the addition of "alt text" to your captions to describe your photographs and images.
Have Fun!
Above all, our interviewees recommend staying positive and having fun with social media. "Enjoy it and have fun with it," advises Rustad. "It is meant as another way to engage and communicate with our colleagues."
---
Original article written by Jenna Zukswert - a PhD Candidate in sustainable resources management at SUNY College of Environmental Science and Forestry - for the SAF June Forestry Source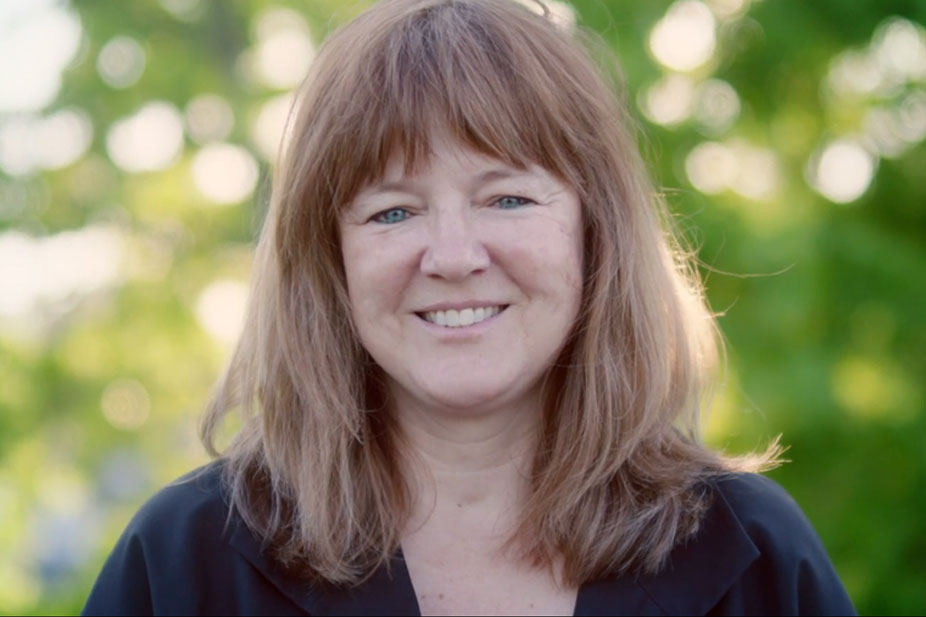 Reimagining Our Cities
Mass Timber
Forest Champion Spotlight | Susan Jones
Susan Jones designed some of the first Mass Timber buildings in the U.S. - including her own home. Today, Susan and her team continue to pave the way for Mass Timber buildings in North America by showing the world that there is no reason a building can't also be a climate change solution.
Watch this next