Climate Tech
Reimagining Our Cities
Rethinking Our Carbon Future
Carbon + Climate Change, Forest Management, Forest Products, Mass Timber
Mass Timber: The Future of the Workplace
Northlake Commons | A mass timber project feature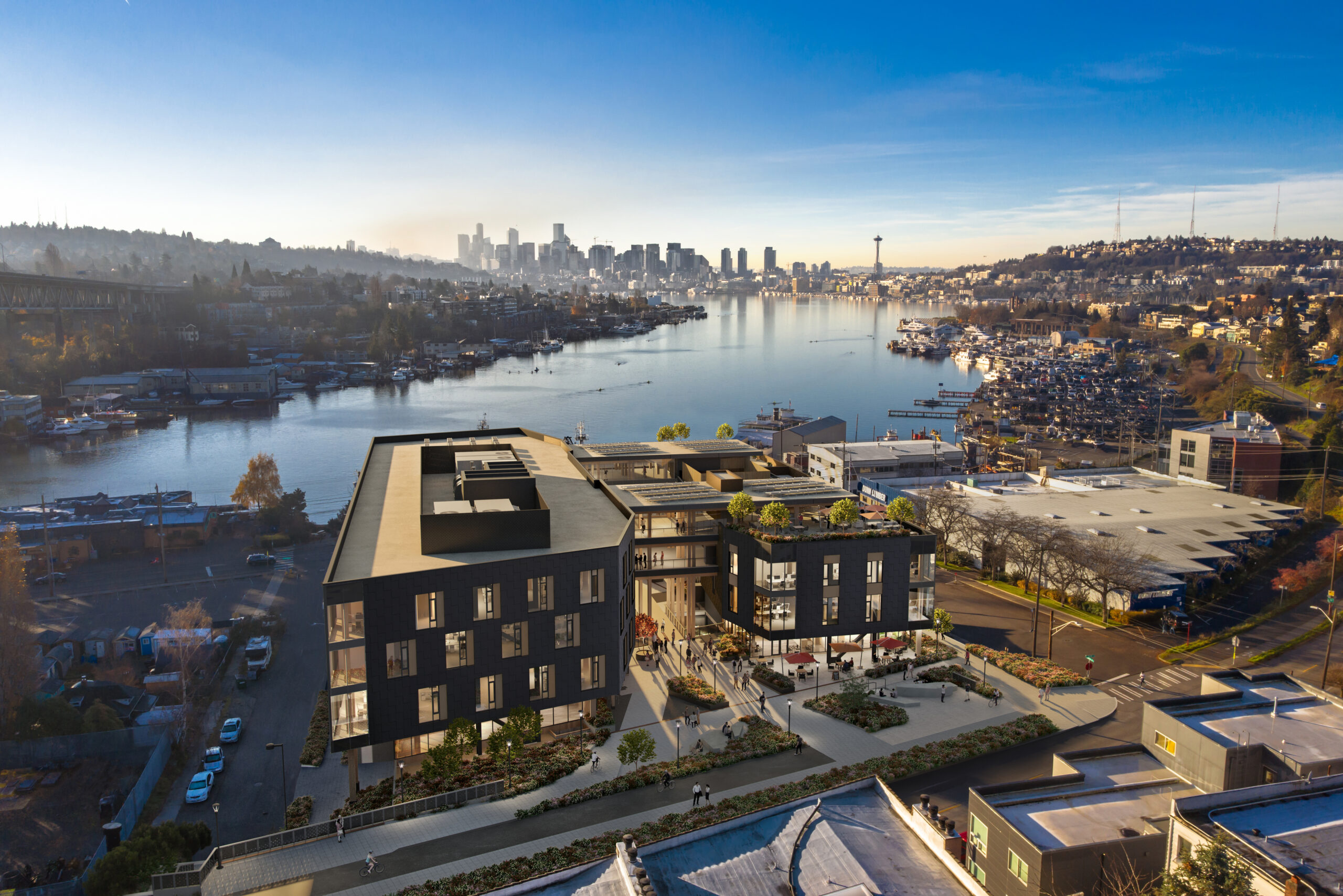 Meet Northlake Commons: the future of the workplace.
TL;DR The future of workplace is good for people and planet. This is an exciting project with huge sustainability + climate implications. This project uses an innovative, eco-friendly building material to lower the overall carbon footprint of the building. Yep, we mean wood.
__
A mass timber, multi-use commercial office building has found its home on the north shores of Lake Union. Situated on Dunn Lumber's original lumber yard (established 1913 and still active today!), the design pays homage to the legacy of Seattle's rich timber history, while looking to the future of wood innovations, workplace environments, and neighborhood revitalization.
By 2050, over 70% of us will live in cities. As our cities grow, so do our challenges: dependence on fossil fuels, a growing disconnect with nature, and not enough housing and infrastructure to meet the needs of a booming population.
Emissions and materials are undoubtedly some of the construction sector's greatest challenges. According to the United Nations, the built environment accounts for 39% of gross annual carbon emissions worldwide, a figure comprising operational carbon, the ongoing carbon emissions from its day-to-day use, and embodied carbon — all the CO2 emitted in producing materials.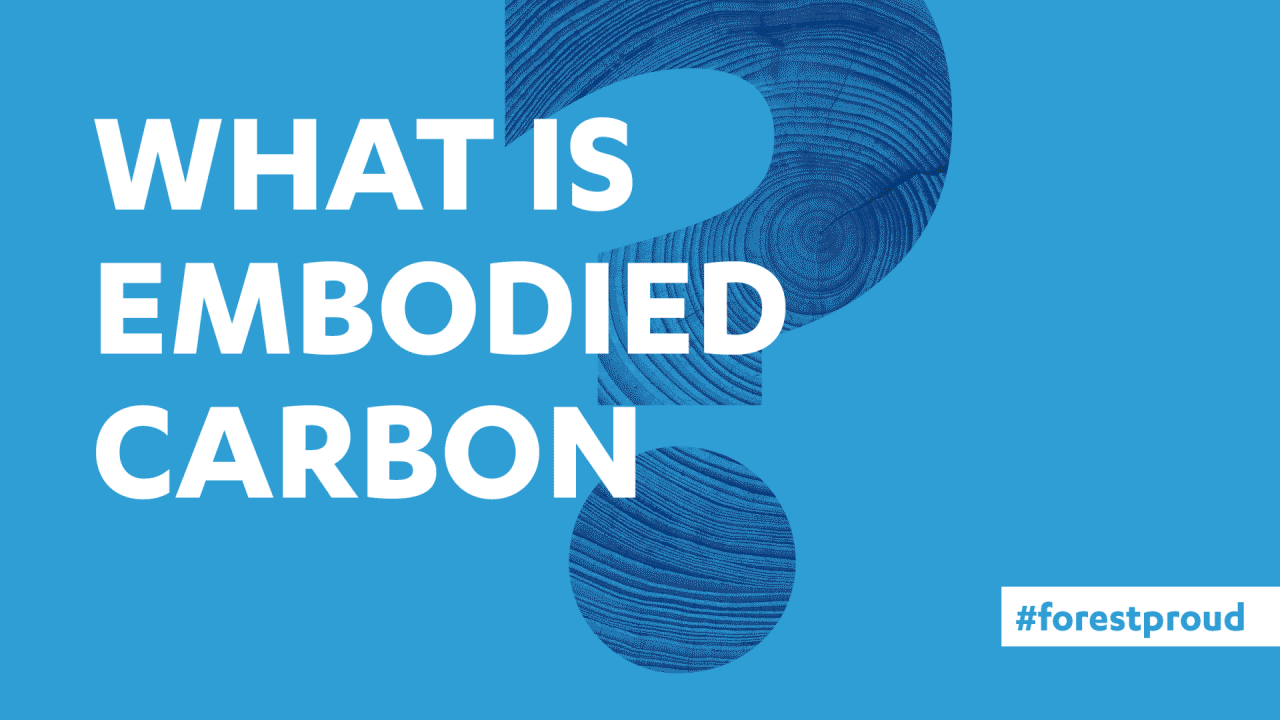 While we can't deny the need for more housing and more spaces to live, work, and play in cities and urban centers, that's a lot of carbon emissions and a lot of non-renewable resources pouring into new builds. We need fresh solutions that are scalable, durable, renewable, sustainable, energy-efficient, and promote well-being for people and planet.
Fortunately, we can have our construction cake and eat it too. (Weird metaphor but stay with us here.)
Using wood, we have the power to reimagine our cities one building at a time.
But why is wood key to building a greener future together?
Trees draw carbon dioxide from the atmosphere through a process called photosynthesis. This process produces various carbon-based sugars necessary for tree functioning and to make wood for growth. Every part of a tree stores carbon, from the trunks, branches, leaves, and roots.
In one year, a mature live tree can absorb more than 48 pounds of carbon dioxide, which is permanently stored in its fibers until the tree or wood experiences a physical event that releases it into the atmosphere, like fire or decomposition.
By weight, dried wood material is roughly 50% carbon.
Practicing sustainable forestry, (grow, harvest, replant, regrow
) means that the full cycle of forests and wood products store carbon and have the greatest potential to lessen climate change impacts and keep carbon locked away in forests and wood. From constructing tall buildings to enhancing materials at the microscopic scale, wood products of any size can have big, positive environmental impacts in the fight to limit climate change.
Mass Timber is an essential product in our forest climate-solution toolbox that is helping us build better buildings, faster, and more sustainably. Mass timber - combined with light-frame construction - can deliver on value, longevity, speed of construction and flexibility. Mass timber helps us build faster and more efficiently, keeps carbon locked away, and allows us to provide homes that are good for people and planet.
This new office building will incorporate heavy timber and mass timber both indoors and out, opening onto the Burke-Gilman trail and the water beyond. The structural system is comprised of CLT panels atop glulam columns and girders, with a steel Buckling-Restrained Braced Frame lateral system. This innovative mass timber structural system has a much lighter footprint than other structural alternatives; a Life Cycle Assessment of the embodied carbon in the timber has been calculated to understand the carbon impact and emissions implications as compared to more conventional construction types.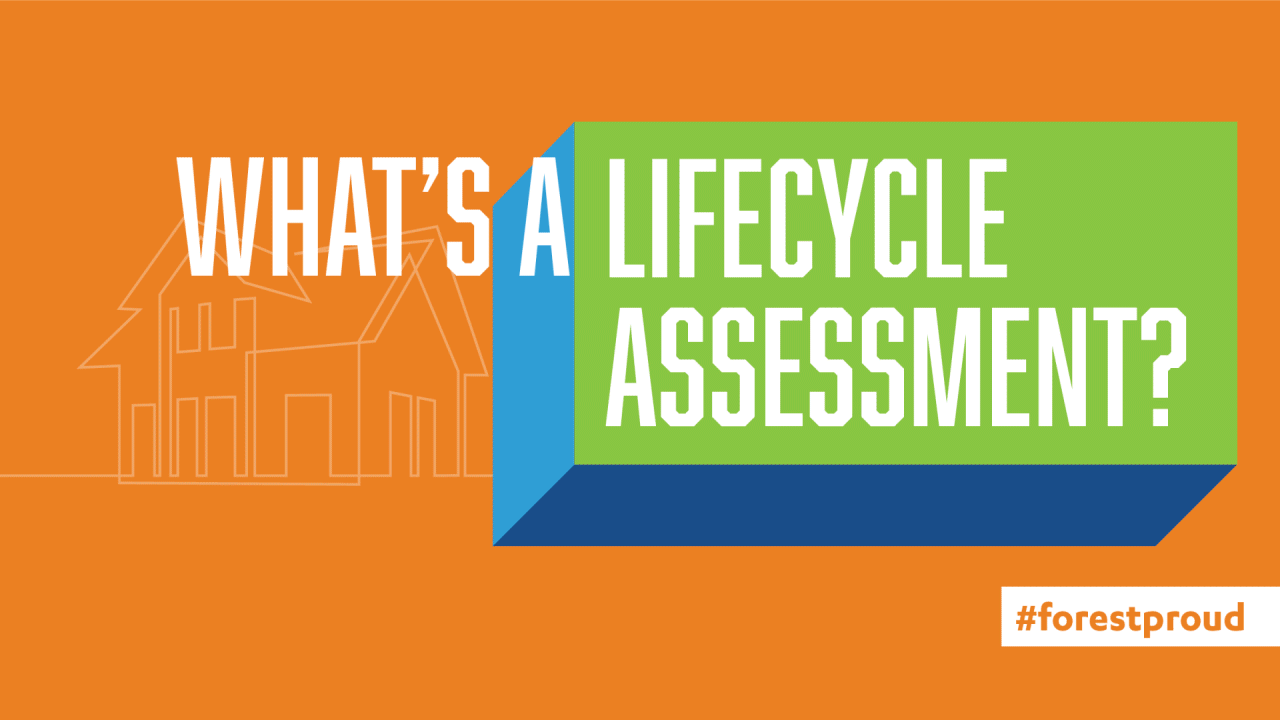 Cities have long been labs for this type of innovation. So, even as our urban challenges continue to mount and grow in complexity, we are entering one of the most compelling opportunities in a generation to reimagine the way society lives, works, and plays. In transitioning our built environment from one that emits carbon to one that stores it, we are answering the needs of society for housing and infrastructure, while also answering the needs of our planet to do it more sustainably.
The ability for a building to act as a climate solution is incredibly valuable. Mass timber locks in and stores carbon in a way traditional building materials don't. As a society,  we are increasingly focused on the carbon and sustainability story associated with the buildings we build. With the building industry currently responsible for an estimated 20% of global emissions, mass timber is a climate game changer.
The Mass Timber Effect estimates that if we were to double the number of mass timber buildings built every year, the building industry could store more carbon than it emits by 2034.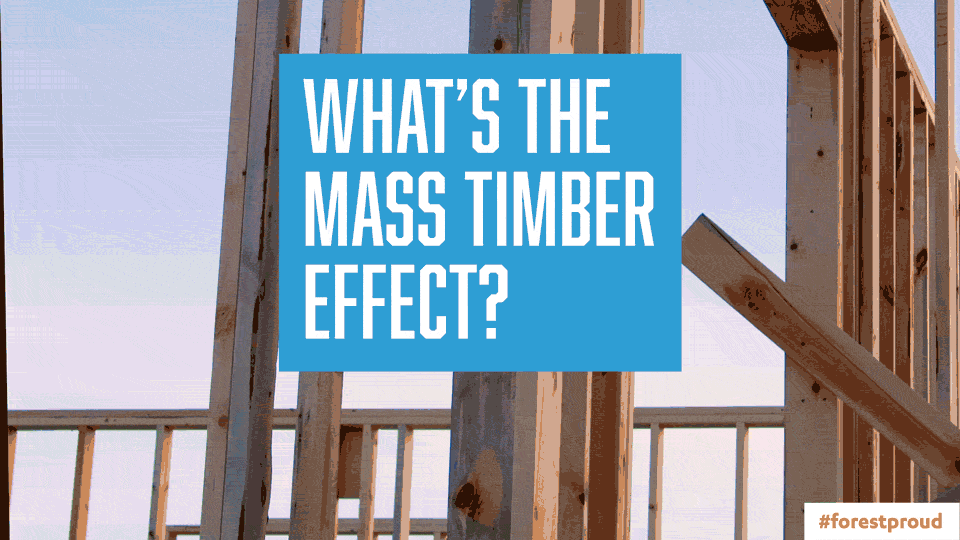 Partners on this project include TimberLab, Swinerton, Weber Thompson, Spear Street Capital, DCI Engineers, and the Hess Callahan Grey Group. The Mass Timber materials were sourced our friends Kalesnikoff. This project also received a $250,000 Wood Innovation Grant from the U.S. Forest Service.
It is no wonder our friends and partners on this project and a climate-engaged workforce are looking to Mass Timber as an economic, social, and environmental solution. An innovative landmark, Northlake Commons elevates the human experience in the workplace, curating an building that brings professional and personal engagement together into a built environment that represents the future of city, of forests, and of our planet.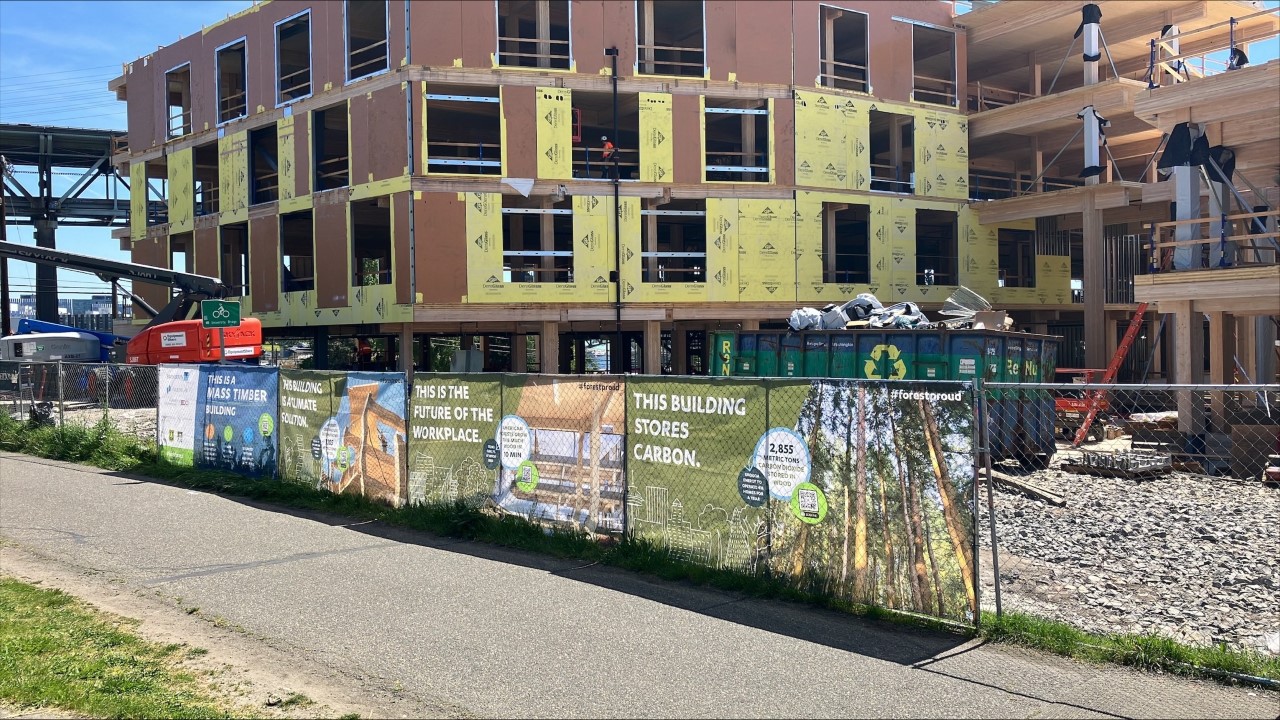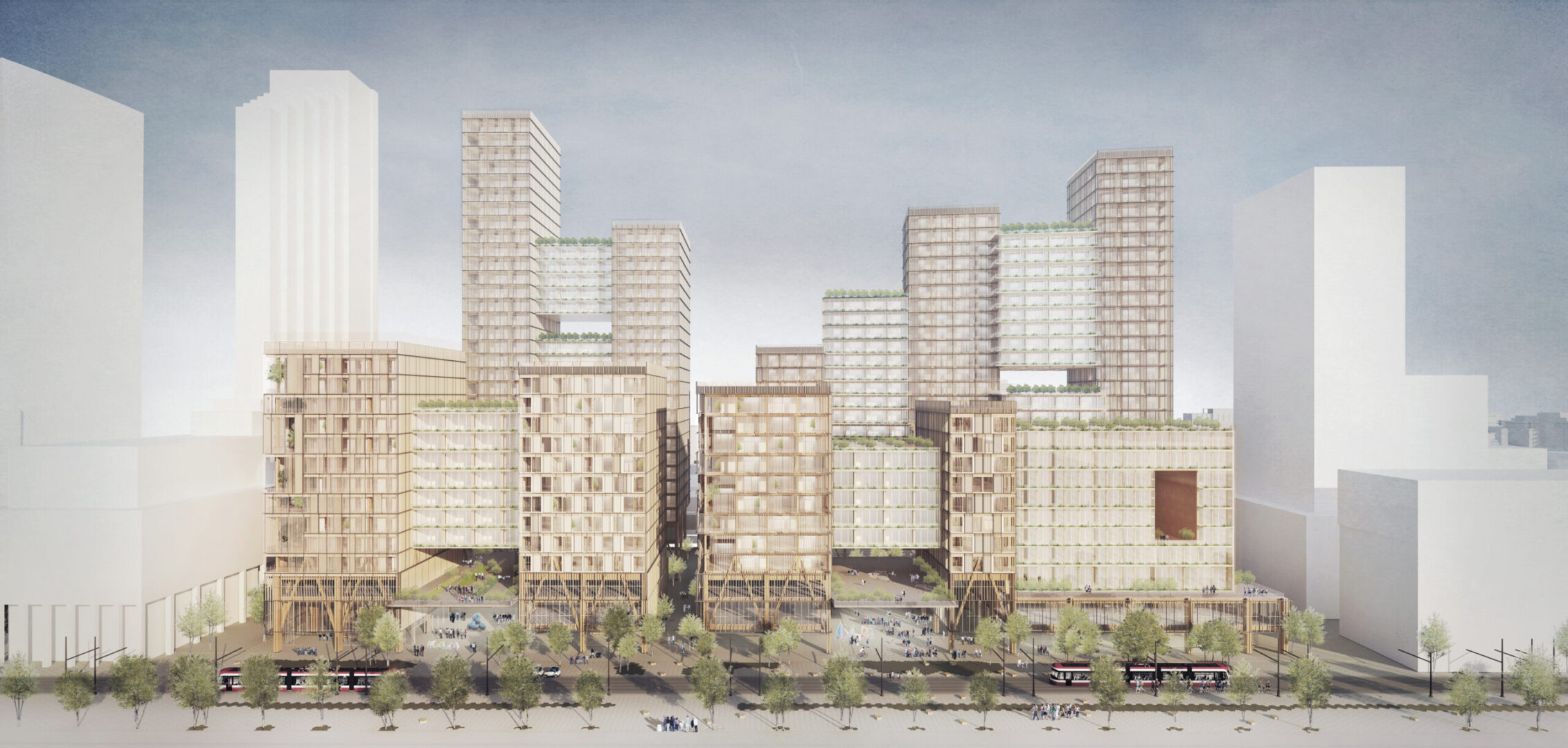 Climate Tech
Reimagining Our Cities
Rethinking Our Carbon Future
Carbon + Climate Change, Forest Management, Forest Products, Mass Timber
Mass Timber + Affordable Housing
As our cities continue to grow, so do the challenges they face. Reimagine the way society lives, works, and plays by moving our cities from climate problems, to climate solutions.
Read this next